Hello, it's me The Blogger again.  I am very excited to tell you how this story blends together here at the Copper Kettle Café in Waterdown.
So, with the business meeting a success, The Duelling artists were collecting votes from around the café.  The Pre Trip Travellers had the count at 4 to 3 in favour of Rachael over Sinbad and his contemporary art concepts.
The newly etched business partners, Michael, Charlie and Sandra, each gave their opinion.  Sandra and Charlie opted for the work of Sinbad, but Michael was in love with the creativeness of Rachael's abstract designs.
The Seasoned Couple, often disagreeing, were actually on the same page for this decision.  Both of them were in favour of the beautiful pantings of the Waterdown scenery done by Sinbad.
This put the vote to 7 to 5 for Sinbad.
Out of the corner came a quiet voice from behind a coffee, fritter and a laptop, "Excuse me."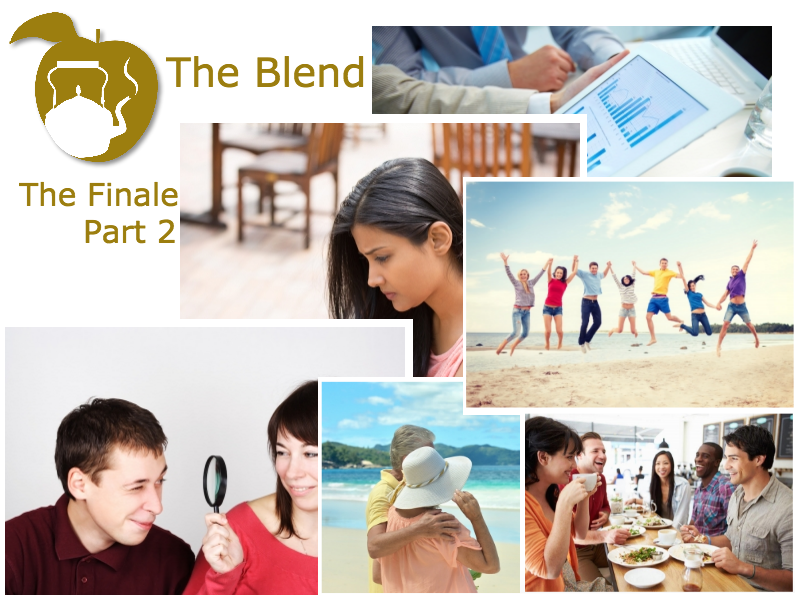 No one really noticed the voice.  So she stood out of her chair, "EXCUSE ME!"  This time everyone turned to look.
The Lone woman, who I figured wouldn't ever say a peep to anyone, seemed to be passionate about this.  She ran over and put her arm around Charlie's.  They looked at each other and Charlie blushed (I am pretty sure these two are a match), then she said "I  would love to agree with this stud muffin, but I have to side with Rachael.  Her work is wonderful!"
We are now at 7 - 6 for Sinbad.
Sinbad thought he was in the clear when a loud tap-tap-tap came over the microphone.
Matt from The Birthday Party took over the attention of the crowd.  He sang to Cindy, the birthday girl, and gave her exactly what she wanted for her birthday.  A song and his affection for her.
In the back corner of the café Lisa, The Not-So Lone Woman, and Charlie slow danced while staring at each other in the eyes while Matt sang his love song.
When the song was over the café erupted in cheer.  Rachael saw this as her opportunity to capture more votes.  She ran up to the microphone and pleaded, "if you are for passion in life please vote for my art work!"
Sinbad stood back shaking his head.
The two of them collected the remaining votes from The Birthday Party group.
2 voted for Sinbad's work and 3 for Rachael's - this put them to a tie.  The Duelling artists were not satisfied with a tie.
There I was, typing away on my key board taking everything in, when the entire café turned it's attention towards me, The Blogger.
"Well, I suppose this is up to me" I said a little uncomfortably. "All of you at the Copper Kettle Café here in Waterdown have been a tremendous inspiration to me.  The atmosphere here is beyond words.  Thank you."
Who did I vote for?  You will soon.
Yours Truly,
The Blogger